a massive
F5 tornado
ripped through
Greensburg
, Kansas on the evening of May 5
th
. reports say that 95% of the town has been destroyed. everything has been destroyed. this is mind boggling. at this point 9 people are confirmed dead.
i am particularly drawn to this story
because
the town in which i spent my youth was also ravaged by a tornado. the date was June 13, 1981. Early in the afternoon that Saturday a category 3 (max. wind speeds 158-206 mph) tornado 0.4 miles away from the
Cardington
city center killed 4 people and injured 56 people and caused between $5,000,000 and $50,000,000 in damages. the entire downtown of the small town of
Cardington
was destroyed - as were hundreds of homes - including an entire trailer park.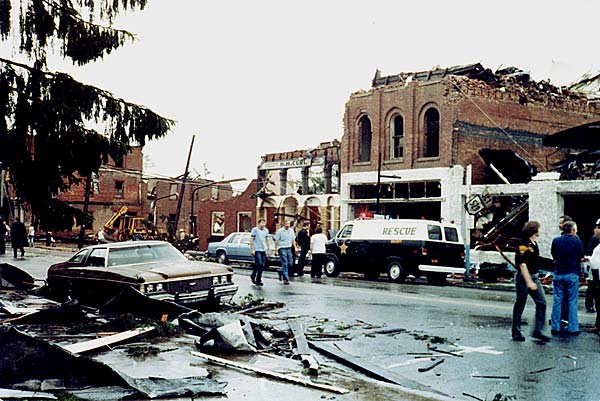 [
downtown
Cardington
...
more photos
]
i remember seeing a mobile home literally wrapped around a tree. i was 7 years old at the time. my other memories include having a hard time sleeping - because of the lack of electricity and the loud noises of
machinery
and generators outside our house. Our church next door served as a soup kitchen and shelter for many weeks following.
i still have a t-shirt that reads I Survived the
Cardington
Tornado - June 13, 1981.
so
yesterday
, while listening to The
Maxwell Show
on
WMMS

100.7
in Cleveland they were talking about the
Greensburg
tornado so I called in to discuss my own tornado experience. You can listen to that segment
HERE
[
i'm
the first caller... approx. 4 min 50 sec. in]. I said "hey, i lived through a tornado..." later he asked me me where i was at the time and i said "we weren't home at the time at the time the tornado touched down..." i didn't clarify that we were nearby at my grandma's house... but anyway - some guy (the third caller) said "what was that first caller thinking - saying he lived through a tornado - but he wasn't home at the time.".
well i still lived through it and the tornado tore up our town.... i didn't think much of it at first - then my wife started laughing - saying i got called out on the radio! then i couldn't stop thinking about it... i wanted so bad to call back and set the record straight so that i wouldn't look bad... but we were heading to Wal Mart... we needed ground turkey and a golf glove. so all through Wal Mart i started thinking about what i could have said. i guess this goes to show that little things can eat away at a man's ego.
to prove this fact - maybe that is why i have gone to great lengths to research the
Cardington
tornado - as if to
validate
my story that i told on the radio.
ego and
tornado's
... to powerful things that can destroy many...