There's this

DVD

called
36 Parables
that I checked out of our Conference Media Center.
I checked out 36 Parables Yellow (containing three 'wisual' parables of Jesus) for one purpose: to show the clip called FOUND (a clip where this old homeless man finds a necklace with sentimental value that he had lost) for a youth worship service. I've had the DVD on my desk for two months almost. i was gonna use it last month - but i changed the schedule... so alas - this Sunday was/is the Sunday i was/am going to use it. Our theme for the Breakfast Club (our monthly youth worship service) this month is FOUND ( and i will be sharing about the Lost Coin and the Lost Sheep.)

so today - I went to play it again - to get it refreshed in my mind - and i couldn't find the DVD anywhere... literally since 9am this morning i have been looking for it. While looking, i thought, I might as well clean my office. I thought that by cleaning it - the DVD would show up. I cleaned our drawers that haven't been gone through in years. I organized things that were in desparate need of orgainzation. i looked in cupborards, amongst books, other DVD's, notebooks, folders & three - ring binders. Nothing... i found nothing.

Now right beside my computer - to the right of it, i keep two notebooks... one for note taking, the other for brainstorming and creative expression. They were stacked on top of each other. I must have lifted the top notebook 10 times. In my mind, I'm thinking 'the notebook on the bottom is a really thin notebook. Nothing could possibly be under it.'
About 10 minutes ago, i prayed that God would give me the eyes to see. Certain scriptures began to run through my mind...
Do you have eyes but fail to see, and ears but fail to hear? And don't you remember?
Apparently i didn't have eyes to see and no, i didn't remember. I felt like the blind man in Mark 10 vs. 50-52.

"Rabbi, I want to see."
Alas - i lifted up that thin second notebook filled with creative ideas... and low and behold, 36 Parables - Yellow was right there. Matthew 24:2 talks of no stone being left unturned. It took me to clean my entire office... and when i overturned the last 'stone' i found the DVD.
the irony, of course is that the DVD contains the parable of the Lost Coin...symbolic of how much Christ looks for the lost - just like the lost sheep - wanting to find them and bring them home. And then there is rejoicing.
So I think this happened for a reason - if for nothing else - to make the parable more real to me... and to give me a personal sermon illustration that i can share after showing Found sunday morning.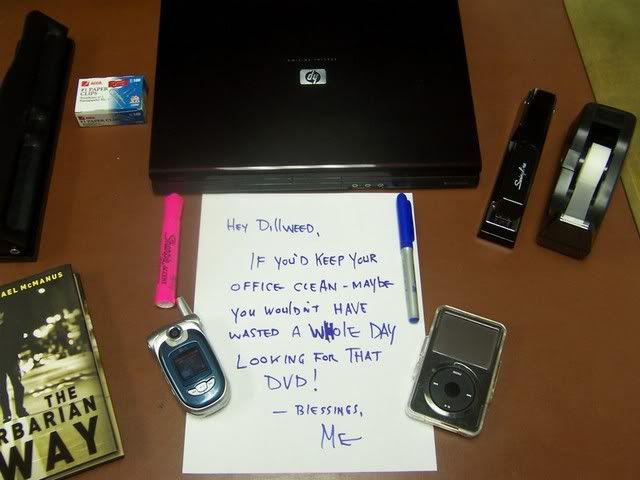 other scriptures that came to mind: